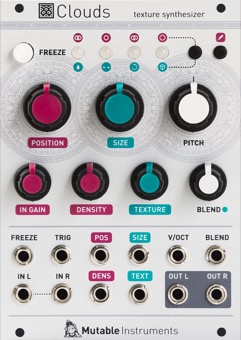 Key data
Texture synthesizer
| Parameter | Value |
| --- | --- |
| Width | 18HP |
| Depth | 25mm |
| +12V current | 120mA |
| -12V current | 10mA |
| Lifetime | 01/15 to 10/17 |
| Modulargrid | Link |
| Processor | STM32F405RGT6 @ 168 MHz |
| Codec | WM8731 |
Original printed manual
Features
Audio buffer acquisition
Stereo I/O. Even with a mono recording buffer, a wide stereo output can still be simulated by randomly panning grains or through the stereo reverberator.
Stereo pre-amp with a gain range covering modular and line levels.
Recording buffer size: 1s (32kHz, stereo) to 8s (16kHz, µ-law, mono).
The FREEZE button and the corresponding gate input freezes the content of the recording buffer, allowing you to dive into its sonic details.
4 memory slots for storing and recalling buffers.
Granular synthesis
Grain generation time base: periodical, randomized, or externally clocked.
The POSITION knob selects from which part of the recording buffer the grains are extracted.
Grain size from 16ms to 1s.
Up to 40 to 60 concurrent grains (depending on recording buffer resolution).
Transposition from -2 octaves to +2 octaves, with V/O tracking.
Grain envelope continuously variable between boxcar, triangle and Hann functions.
CV inputs for all grain parameters, individually sampled and held by each grain. For stochastic, Xenakis-style explorations, try feeding random voltages to those!
Diffusion network with 4 All-pass filters to post process the granularized signals.
Post-processing ("blending") settings
4 post-processing parameters are controlled by the BLEND knob and CV input:
Dry/wet balance.
Random panning amount.
Feedback amount.
Reverb amount.
Specifications
Input impedances: 100k.
Audio input gain range: line level to modular level.
CV range: +/- 5V. CVs outside of this range are simply clipped.
Internal processing: 32kHz, 32-bit floating point. RAM Recording buffer uses 16-bit (high quality) or 8-bit µ-law (low quality) resolution.
Revisions and variants
2015
Hardware revision labelled "v3" with the following differences:
Metal-shaft IN GAIN potentiometer (originally, plastic shaft, with a wobbly feel since it was not fastened to the panel). This potentiometer is hand-soldered, since it can become very scratchy when exposed to the heat of a regular wave-soldering process.
TL072 op-amp for the audio input and output (originally LME49720, a large stock of which had been bought for other projects).
External 12.288 MHz crystal for clocking the codec (originally: the MCU generates the codec's master clock).